| | | | |
| --- | --- | --- | --- |
| | 2005 July 15 - Frankfurt | Updated: 2005 July 19 | |


I had seen this machine at breakfast during the first stay in the Dorint Hotel in Frankfurt, but didn't get a chance to photograph it until the second stay, at the end of the trip. Even then I was in danger of missing the chance, as it was constantly being rolled in and out of the breakfast area to be serviced.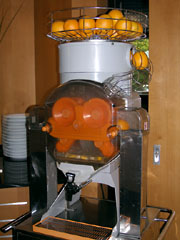 It does exactly what it appears to do; oranges go in the hopper at the top and orange juice comes out of the tap at the bottom, occasionally. But the oranges would jam in the chute and peels would refuse to eject, and so mostly it made noise and sometimes a dribble of orange juice came out. Fun to watch, though.